WTO negotiations on fisheries subsidies go through "dark" times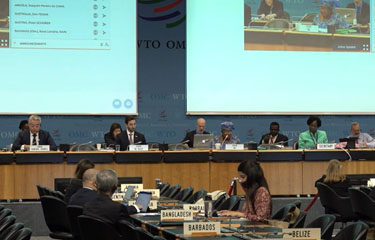 A delegate at the World Trade Organization negotiations on ending harmful subsidies in fisheries called the current state of talks "grim".
Members are fighting over which authorities should be empowered to rule and prosecute illegal, unreported and unregulated (IUU) fishing provisions and how many due procedures should be prescribed to honor an IUU decision.
"The chairman of the talks urged members at the end of the meeting not to reverse the compromises proposed in the draft text after years of back and forth on it," said a trade official in Geneva. , speaking on condition of anonymity.
Negotiators are also debating whether the IUU subsidy bans should be limited to only vessels engaged in IUU activities or should instead include the entire fleet of an operator. The United States is leading a campaign to include reefer and transshipment vessels in the bans.
Wondering if the current grappling represents "the storm before the calm", the official was not convinced that a deal would be made.
"It's definitely a little dark right now," said the delegate.
Article 8 of the draft text, which addresses issues of transparency and disclosure, was the subject of a proposal by India to require members to submit information on fuel subsidies, including including general fuel subsidy programs not intended for fishing in particular. This would be contrary to current WTO practice of controlling only "specific" subsidies.
The proposal was welcomed by delegates from Western countries – some of whom represent countries opposed to banning non-specific fuel subsidies – as an alternative to an outright ban.
Exclusions for poorer member states remain controversial, according to the official. In talks, a large number of developing countries have refused to make special and differential treatment conditional on meeting transparency obligations or publishing the subsidies they intend to grant if they receive treatment. differentiated. But similar bottlenecks have been unblocked in talks with the technical assistance offer, the official said.
Negotiators remain divided over whether to accept a US proposal requiring members to submit information on all vessels and operators that use forced labor. Some members have said that the WTO is not the appropriate forum for labor issues. It is unclear whether negotiators will have a text ready to be presented to a ministerial meeting later this month, the previously stated goal of WTO Director-General Ngozi Okonjo-Iweala.
Photo courtesy of the World Trade Organization