Uniform Advantage announces matching donation of up to $ 25,000 to the International OCD Foundation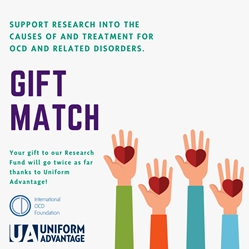 Isolation and uncertainty created by COVID-19 pandemic has increased need for mental health awareness and treatment
FORT LAUDERDALE, Fla. (PRWEB)
09 October 2021
Uniform Advantage (UA), a multi-channel retailer of uniforms for the medical and hospitality industries, today announced a matching donation of up to $ 25,000 to benefit the International OCD Foundation (IOCDF).
The donation will benefit the IOCDF Research Grants Fund, which supports research to better understand and treat obsessive-compulsive disorder and related conditions.
"We are very grateful to Uniform Advantage for its donation to the Research Grant Fund. Since 1994, the Research Grant Fund has supported the Mike Jenike Young Investigator Grant Awards, which are presented to young researchers whose work helps us better understand and address Uniform Advantage's contribution in this area is invaluable, and these funds will advance research to help everyone affected by OCD get the treatment they need, "said Jeff Szymanski, PhD, Executive Director of OCD. the IOCDF.
"The isolation and uncertainty created by the COVID-19 pandemic has increased the need for mental health awareness and treatment," said Susan Masimore, CEO of Uniform Advantage®. "UA is proud to support the groundbreaking work of IOCDF researchers. "
With their donation, UA will match 100% of all donations to the Research Grants Fund up to $ 25,000, thus doubling their impact.
"This is a great opportunity for people who are considering a donation to make it count even more," Masimore said. "Nothing would make us happier than to match the $ 25,000."
Donations to the IOCDF Research Fellowship Fund can be made at: iocdf.org/research-donation
International OCD Awareness Week runs from October 10-16. Each October, community groups, service organizations and clinics around the world celebrate with OCD-inspired educational talks, art exhibitions, local fundraisers and more. Find an event near you.
About Uniform Advantage

Uniform Advantage has been synonymous with style, quality and customer satisfaction for over 30 years. As the first division of UA Brands, the chain was launched with a single store in South Florida in 1985. Today, the company operates 29 retail outlets in key markets across the United States; e-commerce and printed catalog divisions; in addition, designs and manufactures its own exclusive lines of healthcare clothing. The company's headquarters are based in Fort Lauderdale, Florida, with a distribution center near Atlanta, Georgia. Learn more at http://www.UniformAdvantage.com or by calling 800-283-8708.
Share the article on social media or by email: