Topeka, Kansas, will host a benefit concert for Ukrainian refugees as part of the "Topeka Music Week" festival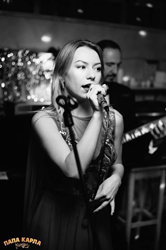 "We are proud to continue to provide refuge to Ukrainians and others in need through the Topeka Refugee Task Force," said Sean Dixon, President of Visit Topeka. "This fundraising effort will allow us to continue on this path as more and more refugees come to the United States."

TOPEKA, Kansas (PRWEB)
June 27, 2022
Visit Topeka recently announced a concert to benefit Ukrainian refugees as part of Topeka Music Week, a week-long music festival taking place July 8-16 in the capital. All proceeds will be donated to Ukrainian refugees who settled in Topeka earlier this year through the Topeka Refugee Task Force, in addition to the $50,000 already donated by community members since March.
"We are proud to continue to provide refuge to Ukrainians and others in need through the Topeka Refugee Task Force, which was formed earlier this year," said Sean Dixon, President. by Visit Topeka. "When I heard from members of the community wanting to organize a Topeka Music Week concert specifically to support Ukrainian refugees, I was blown away. So far, we've brought nearly 30 Ukrainians to the area, and this fundraising effort will allow us to continue on this path as more and more refugees arrive in the United States.
The city's refugee task force aims to accommodate people displaced by war and provide them with housing and placement, schooling, counselling, basic necessities like clothing, food and transportation, as well as extracurricular activities for children such as youth sports programs. The benefit concert will feature singer Mariia Ratman, a Ukrainian who traveled to Topeka with her family to escape the war. His set list will include songs in English and Ukrainian. In addition to her performance, other Ukrainians will share stories from their trips to the United States
"I am honored to have been invited to perform during Topeka Music Week for the benefit of my fellow Ukrainians who have found refuge in the region," said Mariia Ratman. "Topeka has remained committed to supporting refugee efforts, and this benefit concert further demonstrates the community's willingness to welcome us with open arms."
The task force represents an ongoing humanitarian effort – in September last year, Kansas welcomed 500 Afghan families fleeing the Taliban takeover of their country. The benefit concert, sponsored by cohort.digital, will take place on Sunday, July 10 from 6:30-8 p.m. at The Beacon, 420 SW 9th St. Tickets are available for purchase here and include concert admission, a free drink and a treat provided by local favorite Hazel Hill Chocolate. Ratman's performance is scheduled for 7 p.m. and will feature a setlist of more than a dozen songs.
In addition to the Ukrainian benefit concert, Topeka Music Week will feature performances at venues across the city, including downtown's Evergy Plaza and Jayhawk Theater, NOTO's Redbud Park, Happy Basset Barrel House, at the legendary Boobie Trap Bar, etc. The week will culminate with the historic Fiesta Mexicana de Topeka, featuring exciting performances in Spanish, and Country Stampede, a three-day outdoor country music festival to be held at Heartland Motorsports Park. More information about Topeka Music Week can be found at TopekaMusicWeek.com.
About Visit Topeka Inc.

As Topeka's official destination marketing organization, Visit Topeka Inc. is dedicated to marketing the area as an exceptional destination for meetings, events, sports and leisure tourism, thereby enhancing the economy local. Visit Topeka is a 501(c)6 non-profit organization. Learn more at VisitTopeka.com.
About GO Topeka

GO Topeka creates opportunities for economic growth that provide a prosperous business climate and a fulfilling lifestyle for Topeka and Shawnee County. GO Topeka operates as part of the Greater Topeka Partnership, the region's primary economic development agency. https://www.gotopeka.com/.
Share the article on social networks or by e-mail: