The WTO clings on | Council on Foreign Relations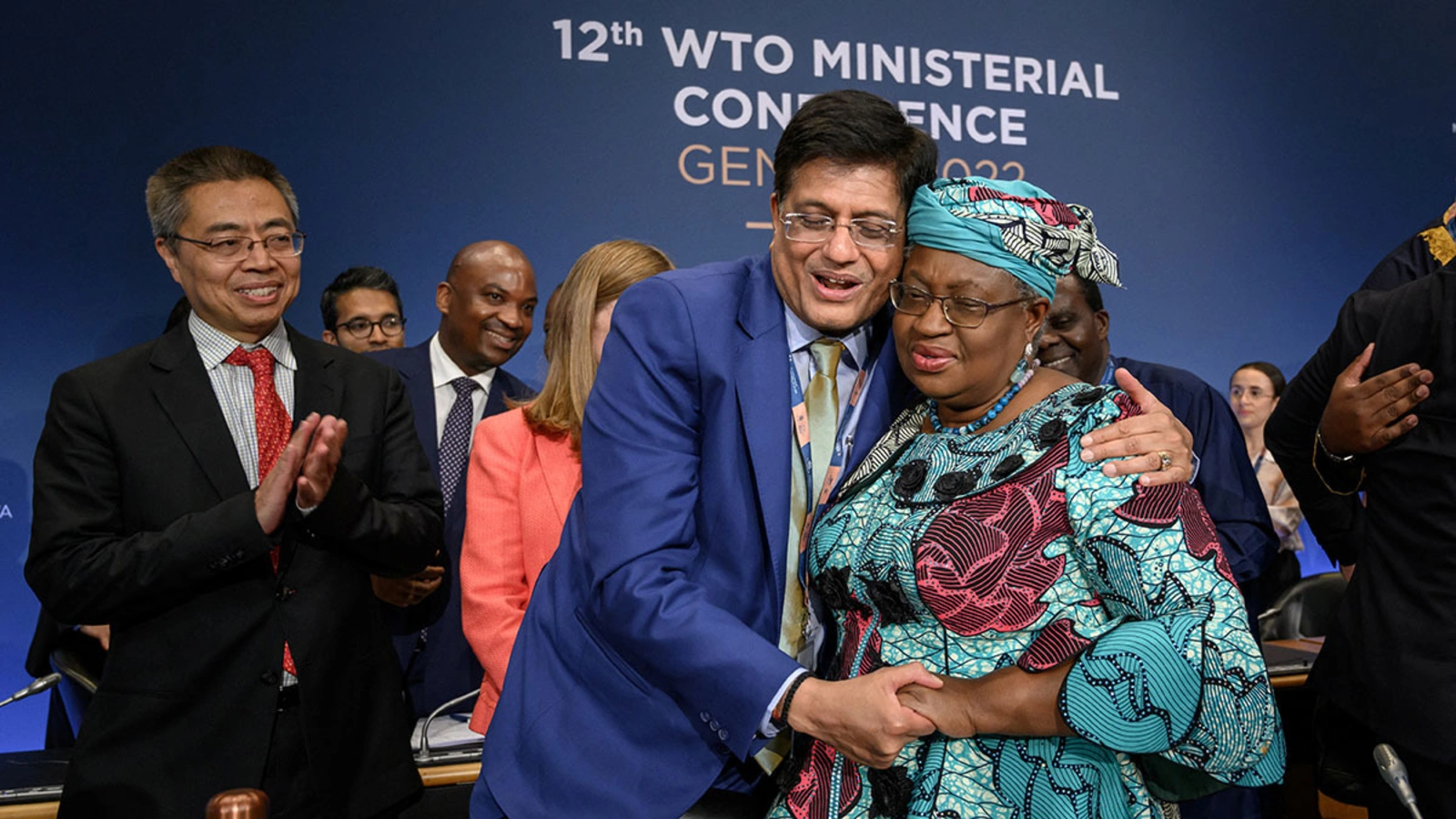 The World Trade Organization (WTO) reached a package of deals after a six-day marathon of negotiations last week at its twelfth ministerial conference (MC12). In general, expectations heading into the meeting were low, as the 164-member organization struggled for years to agree to new rules.
The pandemic has certainly played a role in recent delays, but the failure to achieve substantial results at the last meeting, in Buenos Aires in 2017, has also weighed heavily on the organization. There, the members could not even agree on the usual closing statement of the conference. This led many to wonder if another failed round of negotiations was the beginning of the end for the WTO. The situation was tense as MC12 approached, with the meeting being touted as a watershed moment for the organisation. However, early Friday morning, trade negotiators were delighted to strike the first major WTO deal in nearly a decade.
Safer:
World Trade Organization (WTO)
Swap
Fisheries subsidies
Pharmaceuticals and vaccines
COVID-19[feminine]
While there is cause for celebration, this does not mean that the WTO is still out of the woods. In fact, as pundits delved into the negotiating documents over the weekend, many raised questions about the substance and sustainability of what was decided at MC12. However, three notable findings emerged. Here's a breakdown of what they include:
Fisheries subsidies
A landmark agreement to limit government subsidies to the fishing industry is the most significant outcome of MC12. Not only is this the first multilateral agreement WTO members have signed since 2013, but it is also the first time they have negotiated rules focused on sustainability. The new rules prohibit subsidies to fishing vessels or operators that engage in illegal, unreported and unregulated (IUU) fishing, as well as subsidies that support the fishing of overfished stocks (when the quantity of fish falls below of a specific threshold). Members also agreed to prohibit subsidies for fishing and fishing-related activities on the high seas (international waters), where biodiversity is threatened by unsustainable fishing practices.
While a major achievement, the agreement is incomplete because comprehensive rules to address subsidies that support overcapacity (the ability to fish beyond sustainable catch levels) and overfishing ( distinct from fishing for overexploited stocks, i.e. fishing at a rate that does not allow a species to recover its population) were not included mainly due to objections from India; New Delhi has called for a 25-year exclusion for developing countries, which would significantly weaken the agreement. These subsidies include those for the construction of ships, the purchase of machinery and equipment, personnel costs and fuel. Fuel subsidies are of particular concern as they represent 22% of total government subsidies to the fishing industry. Negotiations to expand the agreement to include more comprehensive rules will continue for up to four years. If an agreement is not reached at that time, there is a provision under which the whole agreement terminates automatically.
For now, WTO members have the opportunity to put these new rules into effect and make these subsidies more transparent through reporting requirements and regular dialogue through a newly created Committee on Fisheries Subsidies. . This is an essential basis on which to build and which gives members the opportunity to improve the text in future negotiations.
Moratorium on e-commerce rights
The moratorium on e-commerce tariffs has been extended, although there were genuine concerns ahead of the 12th Ministerial Conference that it would be the first time a WTO meeting had raised barriers to trade instead of reducing them. The moratorium, which has been in place for 24 years, prohibits the application of tariffs on electronic transmissions such as email, streaming services and software. Some countries argued that the moratorium prevented them from collecting revenue, even though studies suggest [PDF] that any tariff revenue would be offset by economic losses resulting from new restrictions on digital trade.
Safer:
World Trade Organization (WTO)
Swap
Fisheries subsidies
Pharmaceuticals and vaccines
COVID-19[feminine]
India, Indonesia, Pakistan, South Africa and Sri Lanka led the charge against renewing the moratorium this year, but relented after members agreed to have a broader discussion on the moratorium in the future. It is due to expire at the next ministerial meeting in December 2023, or March 2024 if that conference is postponed.
PI waiver for COVID-19 vaccines
WTO members have negotiated a waiver of parts of the Agreement on Trade-Related Aspects of Intellectual Property Rights (TRIPS) in hopes of facilitating better access to COVID-19 vaccines and treatments. 19 in the world. Proponents of the waiver argue that patents prevent poorer countries from making vaccines. The waiver has been a major sticking point in the run-up to MC12, although the extent to which it would improve vaccine equity has been hotly debated.
Initially, negotiating lines were drawn largely on the basis of income level, with wealthier countries opposing the waiver and many poorer countries supporting it. But the United States quickly switched sides and signaled support for a waiver, even though it has always been a strong supporter of intellectual property rights. However, member states of the European Union (EU) and other countries home to pharma giants remained skeptical; and US support for a broad waiver was less than strong.
The final agreement provides for a limited waiver of the TRIPS Agreement for COVID-19 vaccines, and further discussions on its extension to include therapeutics are expected to take place in six months. The pharmaceutical industry and supporters of a waiver have expressed dissatisfaction with the outcome. Some suggest the waiver comes too late, as vaccine stocks are now plentiful, but large challenges remain in the distribution of vaccines and public health campaigns to encourage vaccination. As the waiver comes into effect, WTO members will have a better idea of ​​its value and the additional measures that may be needed to ensure equitable access to life-saving COVID-19 vaccines and treatments. Moreover, this agreement could provide a framework for responses to future pandemics.
What's next for the WTO?
Trade ministers no doubt feel energized by the post-MC12 multilateral trade negotiations, but the hard work has only just begun. It is important to keep in mind that the work of trade ministers over a few days is nothing compared to the years of work of negotiating chairs; delegates in the missions in Geneva; and the administrative arm of the WTO, the Secretariat, which plays a key role in supporting the negotiations. The daily, often mundane work of the WTO goes largely unnoticed [PDF]. This work resumed on Monday and will be essential to maintain the momentum generated by MC12.
Among the work still to be done, members failed to agree on a blueprint for future agriculture negotiations, which are likely to remain very controversial [PDF]. And while members agreed to limit restrictions on food exports, commitments to tackle food insecurity amid the Russian war in Ukraine remain shallow. Members will need to hold each other accountable and continue cooperative efforts where possible to avoid putting further pressure on already struggling agricultural commodity markets. Meanwhile, the so-called plurilateral negotiations – which involve smaller groups of countries rather than the entire WTO membership – have also failed to make headway. Agreements on e-commerce, plastic pollution and investment facilitation are still uncertain. However, members pledged to work on the broader issue of WTO reform, including fixing the broken dispute settlement system, which has stalled due to the US refusal to appoint new members to the WTO Appellate Body.
After many years of stalemate and frustration, WTO watchers have once again braced themselves for failure. But at MC12, the WTO proved it was hanging on. More importantly, the ministerial meeting showed how WTO members can advance reform through negotiations. The three main outcomes underline that the WTO remains relevant to both traditional and new trade issues, and should be celebrated. However, trade ministers should keep their sleeves rolled up and prepare for further wrangling over implementation.