Okonjo-Iweala's brother, Obi of Ogwashi-Uku convoy attacked in Delta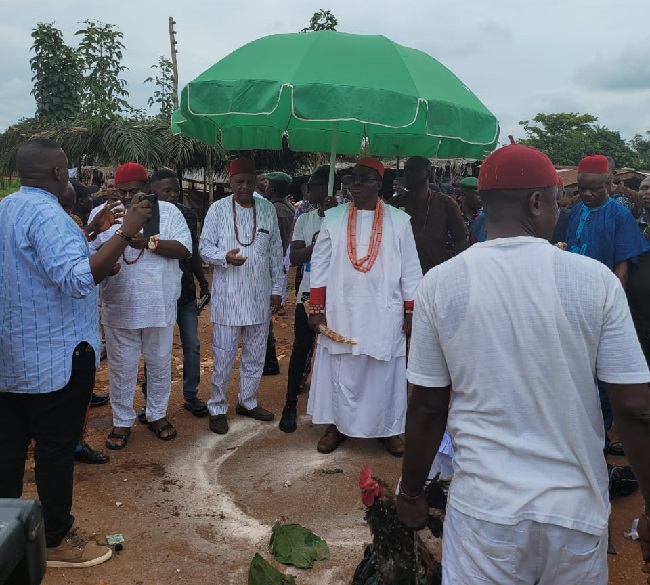 Obi's convoy from Ogwashi-Uku, HRM Obi Ifechukwude Aninshi Okonjo II, and brother of the former Nigerian Minister of Finance and current Director General of the World Trade Organization (WTO), Ms. Ngozi Okonjo-Iweala, has summer, Friday, attacked by thugs in Delta State.
The traditional chief was returning from a visit to Otulu Ogwashiku-Uku, where he had gone to pray with his chiefs when the thugs rushed on his convoy.
The reasons for the attack had not yet been determined at the time of filing the report.
But a statement from the Obi Palace signed by its spokesperson Prince Greg Okwumbu said the thugs also attempted to forcibly seize a gun belonging to a law enforcement officer who was part of the Obi escort during the visit.
"At the end of the visit when the Obi left, cultists and thugs imported into Otulu, who were aware of the visit, attacked members of the entourage who were in the back of the convoy .
"It is important to note that members of the press accompanied the Obi on his visit.
"Law enforcement officers from the area commander office and the brigade command in Asaba were also present during the visit and witnessed everything that happened.
"The people who sponsored the thugs are known to us and will be brought to justice," Prince Okwumbu revealed.
However, he described the visit to Otulu Ogwashi-Uku "as largely successful and the Obi met members of the community, prayed with them and discussed the issues with them".
YOU MUST NOT MISS THESE TITLES NIGERIAN TRIBUNE
Lagos is the second least livable city in the world for 2021
Lagos is the second least livable city in the world for the year 2021. This is according to the most recent annual ranking established by the Economist Intelligence Unit (EIU) …
FACT CHECK: Has UNICEF declared that blocking children's access to pornography is a human rights violation?
ALLEGATION 1: A Twitter user claims that UNICEF has said that any effort to prevent children from accessing pornography could violate their human rights.
VERDICT: DECEPTIVE!