Hurricane Florence survivors finally have a home after more than 2 years | New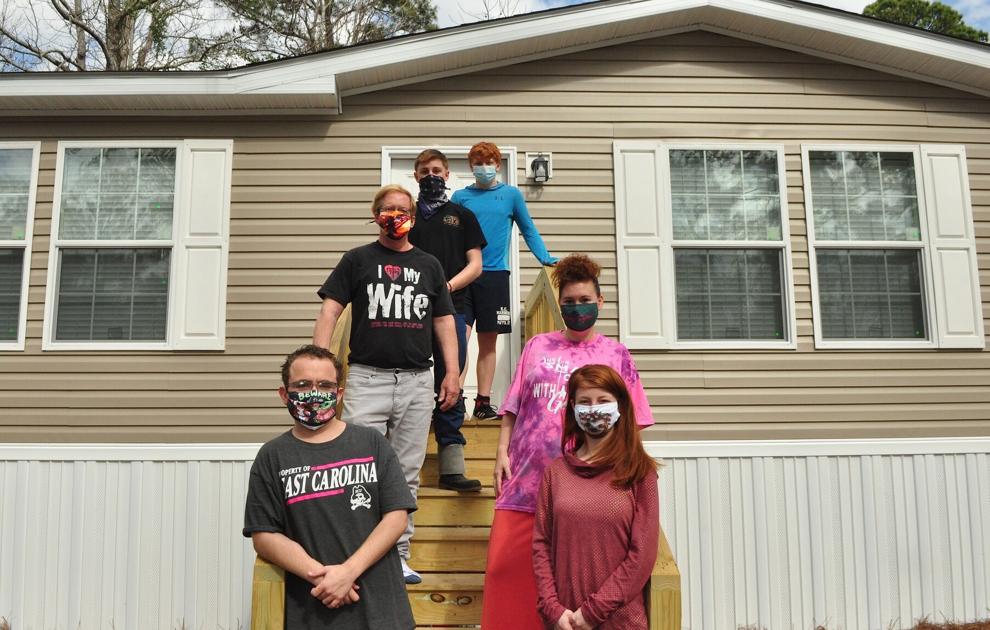 STRAITS – After four moves and twice homeless since losing their home to Hurricane Florence in September 2018, Robert and Dena Lewis, along with their four children, finally have a new home.
With the help of several nonprofits, including the Carteret Long Term Recovery Alliance, the family has just moved into a new four-bedroom double-width mobile home donated by Samaritan's Purse, a ministry that provides disaster relief. disaster and housing across the country.
It has been a long road for the family, who have faced many challenges since fallen trees destroyed their mobile home in the Category 1 hurricane that devastated Carteret County, including being homeless and a son in need of a kidney transplant.
It was also a long road for CLTRA's disaster recovery director, Reverend Robbie Phillips, who was determined to see the family find a home.
"So many times, I had no idea which way to go with this project," Reverend Phillips said at a dedication celebration for the house on Saturday. "There have been so many churches and organizations that have helped make this possible that it would be impossible to name them all. Above all, we give God all the glory for making this possible.
The couple thanked everyone who helped their family move into their new home on Sweeten Ridge Lane in Straits.
"I am so grateful," Ms. Lewis said.
"The support has been so phenomenal from so many people," added Mr. Lewis.
Reverend Phillips said there are still more than 400 families in the county whose homes damaged by Hurricane Florence are awaiting help.
"We have other families in a situation similar to the Lewis'," she said. "We cannot forget them.
Reverend Phillips said she was first informed about the Lewis family by Tabbie Nance of the Carteret County Public Schools Foundation, which assisted many public school families affected by Hurricane Florence. Some of Lewis's children attend East Carteret High School.
The condition of a son, David, who was awaiting a second kidney transplant, was of particular concern when they lost their home. The family moved in with relatives while they sought help.
"He had been suffering from kidney failure since the first transplant when this family was referred to us through the Carteret County School Foundation," said Reverend Phillips.
CLTRA put the family in touch with the Back at Home program through Family Promise of Carteret, a non-profit organization that provides housing for homeless families with the support of churches in the area. Once they received housing, Reverend Phillips went to work. After consulting with several disaster relief agencies, it was determined that the house needed to be demolished.
"There were a lot of financial challenges," said Reverend Phillips.
Ms Lewis could not work because she had to be with her son, who was on call for a second kidney transplant. With only Mr. Lewis' income, the family was not a good candidate for a Small Business Administration loan. In addition, the family was in default due to the damaged house and was behind in paying county taxes.
After consulting with Samaritan's Purse, Reverend Phillips decided to help the family overcome some of the financial hurdles so that they could qualify for a new mobile home.
During this time, David's condition stabilized, so Ms. Lewis was able to start work with Head Start. CLTRA worked with the county tax office to help the family set up a payment plan for the back taxes. The group turned to Legal Aid of North Carolina to resolve the default situation.
With all of that in place, the Lewis family have now qualified for a wide double thanks to Samaritan's Purse. Just when it all seemed to fall into place, more bad news arrived.
Ms Lewis 'mother passed away and a month later Mr Lewis' mother passed away. In addition, the owners of the place where they lived, via Back at Home, did not renew their lease and the family was once again homeless.
"Finding affordable housing in this county has been very difficult for our survivors," said Reverend Phillips. "We involved the Salvation Army on a hotel stay for this family while we continued to search for another location. We had several churches involved in the search and eventually a house in Smyrna became available. We have partnered again with Family Promise and Catholic Charities for deposits to move this family again. "
Once settled into their new temporary home, David was able to get his second kidney transplant in August and is doing well.
The family was finally able to move into their new mobile home, paid for in full, on February 23. Warriors for Recovery, another county nonprofit that helped families affected by Hurricane Florence, helped with the furniture.
Reverend Phillips congratulated the family for their persistence and thanked those who contributed to the effort.
"We are proud of this family and proud of this project," she said. "We are grateful to all of our partners.
Reverend Phillips said donations and volunteers are needed to continue helping the many families who still need help. To donate, checks can be mailed to CLTRA, PO Box 543, Morehead City, NC 28557. Donations can also be made through the CLTRA website, carteretltra.org. Volunteers can also register on the site. For more information, call 252-723-7274.
Contact Cheryl Burke at 252-726-7081, ext. 255; E-mail [email protected]; or follow us on Twitter @cherylccnt.