Hours of Buenos Aires | There is no Santa Claus!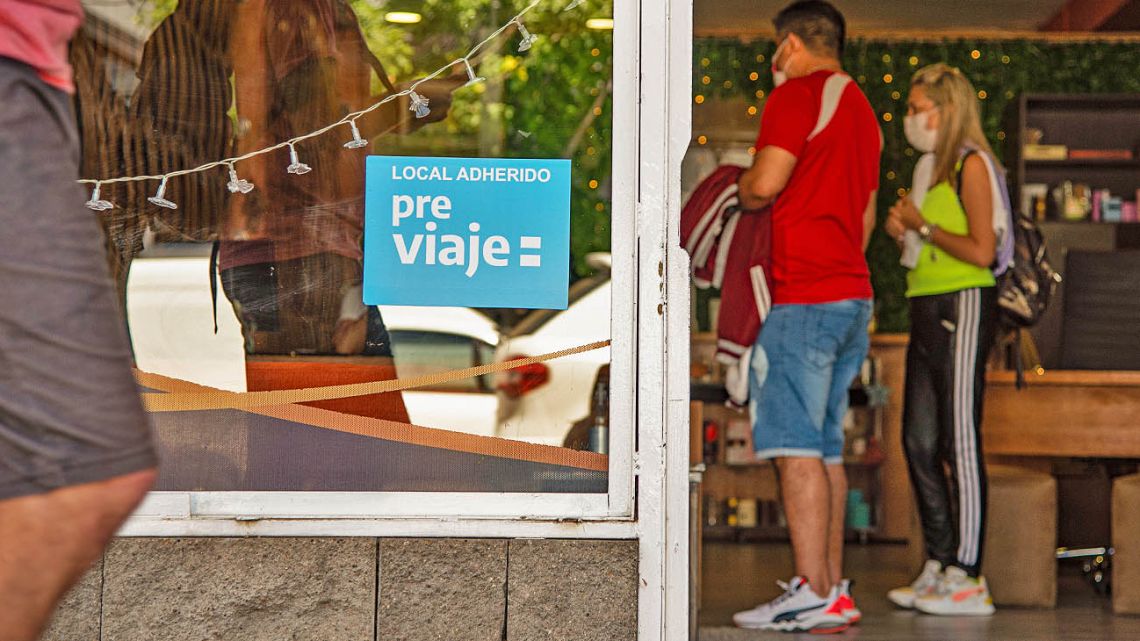 All I had to do was load my tickets via the Previaje app to have a double surprise. First of all because of the efficiency of the procedure, which in a few minutes had confirmed a loan of 200,000 pesos. By distributing money, the Argentine state achieves Scandinavian efficiency. Second, because I have no other conclusion than that Argentina is a country that has lost its mind.
I still have a signed San Lorenzo jersey that Tourism and Sports Minister Matías Lammens gave me when, after tough negotiations, we set the conditions under which the club could use the Banco Ciudad logo. I cannot recognize in this cash-strapped businessman the man who says: "Previaje is a huge success" and that "Previaje is the most important policy in the history of tourism" or who has been overwhelmed by emotion during a rally recalling that this policy "is a huge [source of] pride in being the result of a team of professionals working at the Ministry with the vocation of adding value to the country.
All of this is a curious definition of success. If we are using tax resources to pay off half of something, we shouldn't be surprised if people ask for that 50% – everyone likes the idea of ​​someone else paying their bills. It is a policy that, in reality, could apply to anything. For example, we might suggest that the state pay half the price of the car or half of what we spend on beef or milk. Lammens could then say (and he wouldn't be wrong) that this is a great personal success because, since public funds could be used to pay for everything, only he could convince the government to play Santa Claus. in his region. But one thing is Lammens and another the general interest so, until one throws on the scales the fact that these funds could have been used for other purposes perhaps more necessary than this program, he becomes difficult to conclude that this is a political success.
Economists generally reason on the basis of a marginal cost-benefit analysis. The economist would say: find the most wasteful expense and then the most expensive tax. If the return on those expenses is less than the cost of that tax, you should reduce the less advantageous expenses and reduce the heaviest taxes, continuing down this path until the point where the benefits of the expenses outweigh the costs of the tax. . Within a government, it is up to the Minister of the Economy to order the multiple demands of the different sectors in order to comply with rational criteria. If these are not respected, the success of Lammens means the failure of his colleague in the Ministry of the Economy Martín Guzmán.
Transferring this to our example, it would be worth comparing the social benefit of saving the Sturzenegger family 200,000 pesos on vacation with the higher cost that could have been avoided had that income not needed be increased.
The first thing we have to keep clear is that someone has to pay those 200,000 pesos. There is no Santa Claus with his army of little helpers and Christmas elves offering free gifts. Argentina's debt is currently around US $ 200 billion, which is just three percent of the last 50 years of government spending at all three levels in net present value. In other words, 97% of the expenses were paid by tax (or by printing money, which is an inflationary tax). Some might argue that spending is "self-financing" because government spending is supposed to increase activity and generate new income, but the evidence shows that the effect of government spending on activity is zero. Conclusion: someone pays what the state spends.
So what is the cost of this edition of Previaje? It's hard to say how much this will end up costing. But if half of the more than 70 billion pesos already registered (with a few more days to go) are paid, we can comfortably estimate the expenditure at around 30 billion pesos at least. The question then becomes: What taxes could we lower with 30 billion pesos?
A good way to think about these taxes is to know how they end up reducing the incomes of the factors of production. It is not true that taxes make production unsustainable, as it is sometimes said, they force an employer to pay less for the factors of production under contract, mainly labor. Employer contributions, for example, end up generating less income for workers.
Social security contributions represent 17 percent of gross income, implying that net wages could increase by 20 percent if these contributions were removed. An intuitive way to think about where these taxes hurt the most would be to think of the lowest paid formal workers. And here is the surprising part. If we used Previaje's 30 billion pesos to reduce these contributions, we could eliminate them for half of the lower paid population. It would be a direct blow to the poverty which is supposed to worry us so much, thus boosting formal employment.
Lammens might call Previaje a success for his ministry, but his colleagues in Social Development and Economics would be in a good position to view this spending as an efficient use of resources. In reality – and let's say it loud and clear – this is folly possible only in a government that has totally gone astray.
But it would be unfair to speak here only of the government. We also remember the "success" of the income tax cuts supported by all parliamentary caucuses and leaving this tax to be borne by only the richest 15% of the population. If this tax is lowered with the reduction not accompanied by any reduction in spending, it would mean that the inflationary tax would be increased to be paid by those who have the least. In other words, we would lower taxes for the richest and raise them for those who have the least. The same applies to the recent discussion of the personal property tax floor – proposing to reduce personal property tax without cutting expenses is to reduce taxes for the rich, by increasing it for the poor.
The definition of success in our country is strange because it assumes the existence of Santa Claus. We believe in him when we think that spending has no cost and we believe in him when we think that we can reduce taxes without cost. One day, I hope, we will grow up and find that Santa Claus does not exist.
* Former Governor of the Central Bank, currently holder of a professorial chair at the Universidad de San Andrés, as well as visiting professor at the Harvard Kennedy School and at the Ecole de Hautes Etudes Commerciales (HEC) in Paris.