Governments have paid to develop COVID vaccines. Big Pharma wants to accumulate patents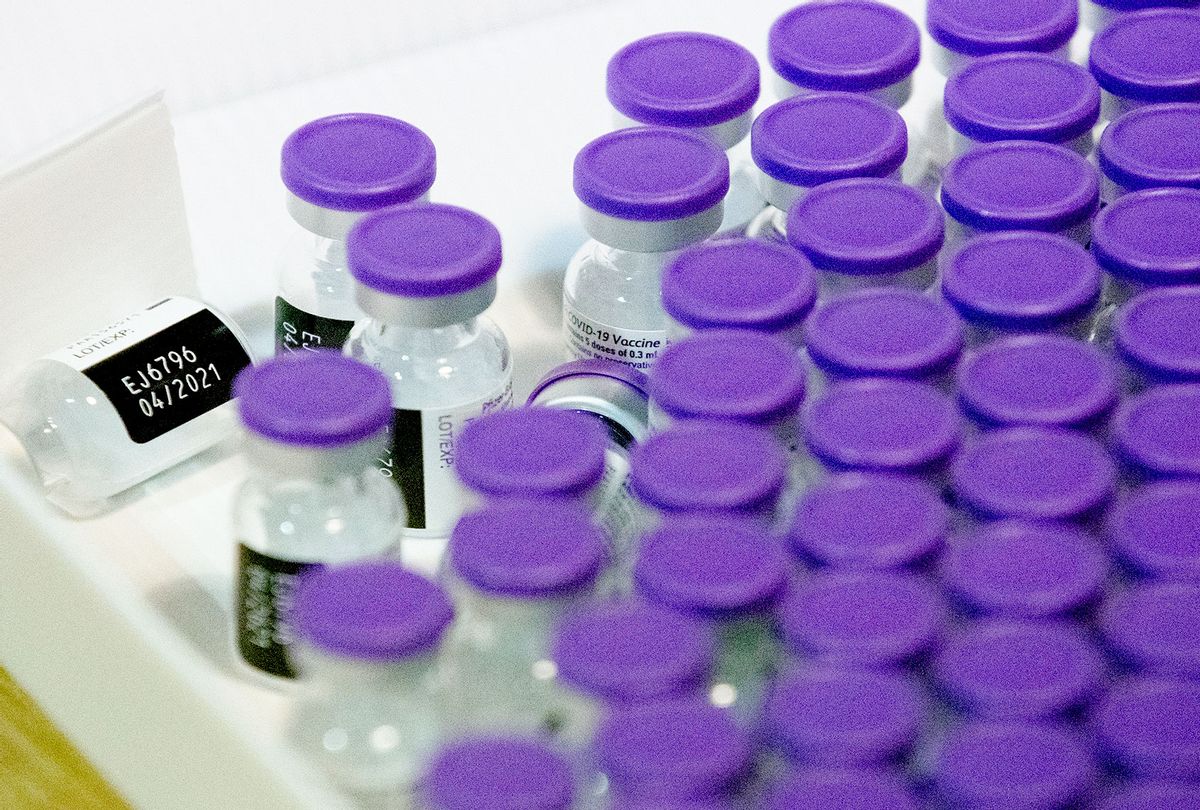 [ad_1]
Looking at the news these days, I often remember a scene from the second movie "The Lord of the Rings", in which the hobbits Mary and Pippin try to convince the Tree Ents to join the fight against evil for save Middle-earth. The Ents form a circle and very slowly begin to converse with each other in all of their different tree languages. After what seems like an eternity, one of the hobbits asks if they've made a decision. The Ents leader leans in with a smile and says the Ents just finished saying hello. Meanwhile, Middle-earth is literally burning.
It is strangely reminiscent of the current international crisis. Almost a year ago, India and South Africa proposed a resolution for a patent waiver for all COVID-19-related technologies at the World Trade Organization (WTO). Essentially, patent surrender is a claim that a company's patent will not be enforced; in the case of a vaccine, this means that any company or government, not just the creator of the vaccine, can use the same recipe to make the same vaccine.
India and South Africa proposed the resolution after realizing that rich countries were quickly purchasing all doses of vaccines under pre-purchase deals, while drug companies showed no intention of share their patents and know-how with producers in developing countries.
Little has happened since their proposal. Over the next eleven months, various draft resolutions were presented to the WTO, but no final drafts were submitted and no votes are expected. Surprisingly, one of the main arguments made by Big Pharma to oppose the waiver is that it would take too long to build production facilities.
Fortunately for potential vaccine producers in low- and middle-income countries, this claim about the timing is wrong. Evidence shows that once the technology is transferred to the generic drug manufacturers, it takes an average of six months to start producing vaccines. A business in Argentina managed to start up in three months.
But that's not the only lie Big Pharma is pushing to persuade wealthy WTO members that a patent waiver is unnecessary. For months, the pharmaceutical lobby argued that even if all patents were removed, generic manufacturers would not be able to manufacture doses unless the original manufacturer gave up its know-how. They say that, of course, with a straight face, as if it wasn't entirely in their power.
In May of last year, the World Health Organization (WHO) launched the COVID-19 Technology Transfer Pool (C-TAP), intended to serve as a global knowledge fund where pharmaceutical companies and research institutes could pool their intellectual property and relevant knowledge. How? 'Or' What. The aim was to ensure that all information would be accessible to the public in one place. The knowledge fund was created at the start of the pandemic when world leaders cried out for a "people's vaccine" and governments threw heaps of taxpayer money into drug companies to develop it.
To get a feel for the importance of know-how transfer, imagine the most complex Ikea piece of furniture you've ever built. In this analogy, the patent is the thing that tells you what all of the parts and pieces make up your dresser. If you don't want to end up putting the wood screw in the wrong place, you need the know-how printed in the instructions, and that's exactly what the drug companies refuse to share. Moderna has very kindly stated that she will not apply any of her patents (although some may not be valid anyway) during the pandemic, but has so far refused to give up its know-how so that other companies can copy its recipe for making vaccines.
---
Want more health and science stories delivered to your inbox? Subscribe to the show's weekly newsletter The vulgar scientist.
---
This situation could have been easily avoided. As the United States and other countries were busy spending unprecedented amounts of money so companies like Moderna could produce vaccines in record time, they neglected to contractually require pharmaceutical companies to bring in their patents. and their know-how at C-TAP. To date, C-TAP is void of any intellectual property relevant to COVID vaccines – including patents, data, and technology.
Another argument made by Big Pharma against patent waiver is that it will undermine innovation – because, on their own terms, companies will be less likely to invest in vaccine manufacturing if they think they won't win. enough money to cover their costs.
This argument is easily debunked. Much of the cost of innovation has been financed by public funds. The Oxford vaccine (AstraZeneca) has received 97% of its funding from public institutions. The Moderna vaccine was funded 100% by US taxpayers. And Pfizer received almost half a billion from the German government. This means that taxpayers have reduced drug companies' risk of their investment to the tune of $ 112 billion in less than a year.
Pharmaceutical companies also say that the pooling of intellectual property is unnecessary because vaccine manufacturing is at full capacity and there are no more generic companies capable of making vaccines. This is not true either. Teva Pharmaceuticals in Israel announcement they gave up making vaccines because they couldn't negotiate a license, and the India and Canada said they were ready and willing to start producing vaccines once they have access to the know-how and the patent rights are lifted.
As WTO member states wrangle over how to word the patent waiver, the pharmaceutical lobby has argued that developing countries should use so-called "TRIPS flexibilities" that allow compulsory licensing. These provisions allow countries to circumvent patents without the consent of the owner, but only for home use. There is a provision known as Article 31bis which allows the export of pharmaceuticals, but it is so cumbersome and difficult to use that it has only been used once. A generic drug company in Canada try to use Article 31bis to produce 15 million doses for Bolivia, but in six months has failed to obtain a compulsory license because their request is lost in an administrative juggernaut.
As the WTO decides to pull itself together, poor countries have had to rely on charitable donations from COVAX, a global initiative for equitable access to vaccines, to provide vaccines. So far, more than six billion doses of COVID vaccines have been distributed worldwide, but they are far from equitably distributed; in particular, only 2% went to the African continent.
On September 16, WHO announcement that COVAX will have to reduce by 150 million doses for Africa, and that an additional 470 million doses are needed to reach the goal of vaccinating 40% of the population by the end of the year. Last week the continent checked in 8 million cases. The actual number is likely to be much higher.
Big Pharma is quick to point out that they have negotiated contracts with manufacturers in India and South Africa, the same two countries that requested the waiver, and that because they are actively engaging with biotech companies , there is no need to waive patent rights. Yet many of the doses produced in these developing countries were not intended for home use, but instead were shipped to wealthy countries that already had contracts. for more doses that they have people.
Johnson and Johnson, the maker of the single-dose vaccine, is producing 600 million doses in Indian biotech company Biological E, but will likely produce export these doses to the EU and the US. Former British Labor Prime Minister Gordon Brown last month noted that 10 million doses produced in South Africa were being shipped overseas, despite the fact that only a small fraction of the African population had been vaccinated.
The reason for this inequality is simple. Pharmaceutical companies have monopoly rights, which allow them to decide who gets vaccines and at what price. Earlier this year, Oxfam reported that Pfizer and Moderna charge governments up to $ 41 billion more than the cost of producing vaccines, and that vaccines could be five times cheaper if pharmaceutical companies did not take advantage of their monopolies.
In February, the Bureau of Investigative Journalism revealed that Pfizer used "bullying tactics" with two Latin American countries during negotiations, which resulted in months of delay and included demand that sovereign assets be used as collateral for payments. If generic manufacturers in developing countries did not have to worry about being sued for patent infringement, they would go one step further towards producing vaccines for their own people and at an affordable price.
In May of this year, President Biden succeeded in shocking the pharmaceutical industry when his administration announced its support for the patent waiver. But despite its support, the waiver still faces an uphill battle at the WTO where all 164 member states come to a consensus, with a single nation capable of vetoing. This means that a final waiver resolution is likely to be a very watered-down version of the original, and it is if a resolution gets a vote.
In its opposition to the waiver, the pharmaceutical industry has forgotten that a patent is a deal between the company and an inventor. It allows the inventor to receive financial compensation in the form of a temporary monopoly while the company enjoys the benefit of the invention. In most cases, this market also benefits both parties and encourages innovation so that the company can evolve. But something about this market is fundamentally broken when the company gives the pharmaceutical industry billions of dollars to fund medical research, and then is held in ransom with no say in how this drug is used.
As with many things in life, there is no simple solution that will solve a very complex problem. Big Pharma is right that a patent waiver alone will not solve the growing disparity in vaccine distribution, but it is a necessary part of a multi-faceted solution that includes the transfer of know-how and the temporary forfeiture of intellectual property rights in order to save savings lives first and profits then. Breaking patents and sharing know-how would give developing countries the tools they need to be self-reliant in times of crisis so that they do not need to depend on charitable donations from rich countries which have monopoly power. the production of vital products. medications.
[ad_2]