FG is setting up education quality assurance service units across Nigeria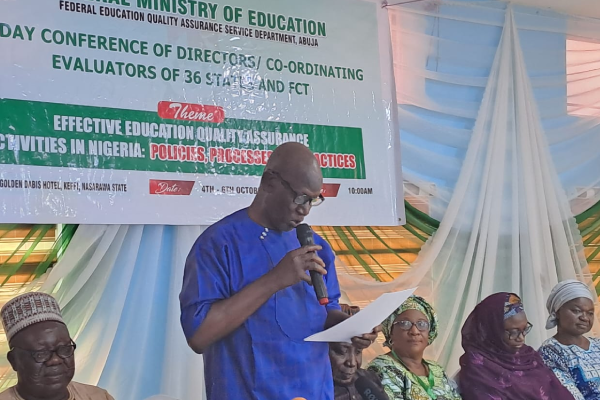 The federal government is setting up education quality assurance service units in all 109 senatorial districts nationwide to ensure quality education at the grassroots level.
Federal Ministry of Education Permanent Secretary David Adejo said so in Keffi, Nasarawa State during a 2-day conference of Principals, Coordinating Assessors from the 36 states and the FCT.
The theme of the 2-day conference is "Effective Educational Quality Assurance Activities in Nigeria: Policies, Processes and Practices".
Sustainable Development Goal 4 aims to ensure inclusive and equitable quality education for children everywhere by 2030.
Achieving this goal is particularly difficult in Nigeria where the state of education is disheartening.
In 2017, the World Economic Forum ranked Nigeria 120 out of 136 countries when it comes to the quality of primary education.
This has also translated into an impact on the quality of graduates entering the labor market each year.
To address this issue, the Nigerian government is currently setting up Education Quality Assurance Service Units in the senatorial districts to ensure quality education.
The state offices would be split into three along the lines of each state's three senatorial districts and would be called education districts
Each district will be headed by a director or coordinating assessor.
Mr. Adejo affirmed that the reports of these activities would be disseminated for the improvement of the school.