Farid Hafez and Enes Bayraklı, eds., European Islamophobia Report 2020 (New texts available now)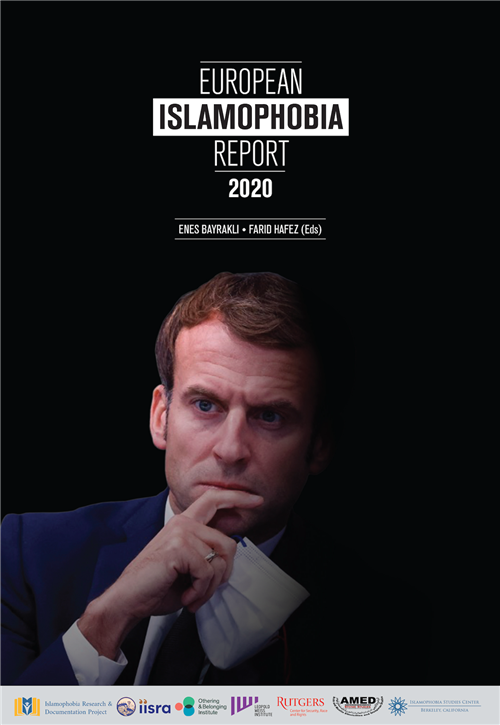 Farid Hafez and Enes Bayraklı (eds.), European Report on Islamophobia 2020 (Vienna, Leopold Weiss Institute, 2021).
Jadaliyya (J): What prompted you to publish this book?
Farid Hafez and Enes Bayraklı (FH & EB): Farid had established the Yearbook of Islamophobia Studies, originally in German and now bilingual, as the first academic journal devoted to the study of Islamophobia in 2010. As academia has become more aware of this issue, many people in political circles across Europe continue to underestimate the problem. That's why we came up with this idea in the first place. We have both published this annual project since 2015. This is the sixth volume of the European Report on Islamophobia. We started this project with more than a hundred authors from all over Europe and covering more than thirty countries to provide data on Islamophobia in Europe to help anti-racism and Muslim organizations to educate more people about Islamophobia in their respective countries.
J: What particular topics, issues, and literatures does the book address?
FH & EB: The report has the character of a policy document, showing how Islamophobia manifests itself in different areas, from the labor market to the media, through politics, the judiciary, hate crimes and the Internet. By providing this structure, one can easily compare the situation in different European nation states, as well as within the same country, over many years. In addition, each country report concludes with recommendations for policy makers and civil society actors to address the general and very specific issues that are challenging in those countries. While other institutions such as the European Union Agency for Fundamental Rights or the Organization for Security and Cooperation in Europe have produced reports which provide enormous quantitative data, we want to identify the moments and significant developments in a year that define the state and development of Islamophobia.
J: How does this book connect and/or diverge from your previous work?
FH & EB: There are several unique aspects to this project. First, it was an annual report. Secondly, it was the first report to cover not only western Europe, but also many eastern countries. Prior to 2015, most of the academic literature dealing with Islamophobia focused on Western Europe. But we have also included countries with large native Muslim populations, such as Bulgaria, Bosnia and Herzegovina and Albania, as well as countries such as Estonia, Lithuania and Poland, where Muslims represent very small minorities ; we were thus able to broaden the debate on Islamophobia in Europe.
The European report on Islamophobia is more of a policy-oriented work, whereas most of Farid's previous work has been academic and devoted to the study of very specific issues such as Islamophobia in parliamentary debates, the Muslim civil society activism, anti-Semitism and Islamophobia, and the institutionalization of Islam. in Europe. In the past, Enes has been involved extensively in think tank work, covering a wide range of topics from German politics to Turkish foreign policy.
Together, we also published in 2019 a book devoted to research on Islamophobia in Muslim-majority societies, which was important for us since we wanted to show how Islamophobia is not a phenomenon geographically limited to the Western world. , but rather – as many decolonial scholars have argued – a manifestation of the expansion of a global racial hierarchy that is deeply rooted in colonial structures of oppression.
J: Who do you hope to read this book, and what kind of impact would you like it to have?
FH & EB: We have produced this report on the one hand to help marginalized Muslim communities in Europe and on the other hand to support all anti-racist forces in Europe, as well as well-meaning people in bureaucracy and politics, who want to change the world. for the best. We believe that we have already accomplished something in this regard, having observed governmental and non-governmental conferences and reports calling on our expertise.
J: What other projects are you currently working on?
FH & EB: Farid Hafez is currently working on a book with Naved Bakali entitled "Global Islamophobia in the War on Terror: On Coloniality, Race, and Islam". Enes Bayraklı is currently working on the first comprehensive anthology on Islamophobia in Turkey.
J: How do you define Islamophobia in your report?
FH & EB: In our report, we offered the following working definition of Islamophobia: "Islamophobia concerns a dominant group of people aiming to seize, stabilize and expand their power by defining a scapegoat – real or invented – and excluding this scapegoat from the resources/rights/definition of a constructed "we". Islamophobia operates by constructing a static "Muslim" identity, attributed in negative terms and generalized to all Muslims. Islamophobic images are fluid and vary across contexts because Islamophobia tells us more about Islamophobes than about Muslims/Islam Importantly, we see Islamophobia not only as manifesting in at the interpersonal level, but also at the structural level.At the same time, we are aware that there are many different approaches to the study of Islamophobia.
Extract from the book (from chapter 1, pp. 9, 21-23)
2020 has been a turbulent year for Islamophobic developments, even putting aside the global spread of COVID-19. The cover of this year's report shows French President Emmanuel Macron, who has harshly cracked down on Muslim civil society and anti-racist activists and academics in France. With the "Law confirming the principles of the Republic" (initially titled "Law against separatism"), the Macron government has further institutionalized Islamophobia and adopted an authoritarian style. France has witnessed an increasing number of police raids, threats of evictions, as well as the closure of mosques and schools, including the dissolution of a humanitarian NGO and a human rights organization. the man defending the Muslims of France against racism and discrimination. Taken together, they threatened the fundamental freedoms of Muslims, in particular, and more broadly reveal a trend towards a restriction of the rights and freedoms of citizens. France has reached a state where French Interior Minister Gérald Darmanin has even singled out Marine Le Pen, leader of the longtime Islamophobic far-right party, for "having been too soft on Islam ". Similarly, in Austria, a raid against supporters of so-called "political Islam" took place a week after the deadly November bombing in Vienna. The homes of several civil society activists were also raided and their bank accounts and assets frozen on suspicion of being terrorists who want to overthrow the Egyptian regime, destroy Israel and create a global caliphate. The raid was based on a report written by Lorenzo Vidino who argues that Islamophobia is a fighting term used by political Islamists "to foster a siege mentality within local Muslim communities, arguing that the government and Western corporations are hostile as well as to Islam in general. " Hafez had previously criticized this report as a method used in a systematic way to "produce knowledge to define vocal and representative actors of Muslim civil society as potentially radical and Islamist, which should then lead to the exclusion of the state and civil society". (…)
Policy
Islamophobia has become mainstream in the political discourse of many European countries. As several studies reveal, in particular the racist discourse of the far right, even if in opposition, impacts the global debate on Islam and Muslims, and continually pushes the boundaries of reasonable discourse. and acceptable. Far-right politicians, such as Swiss SVP member Andreas Glarner, say they are mobilizing against an alleged "preference for Islam". When the extreme right is in power, Islamophobia is legalized. In Staffanstorp and Skurup, two municipalities in Sweden, where far-right Swedish Democrats govern, the hijab has been banned. When a school principal resisted, he received death threats from anti-Muslim and racist groups.
Yet it is not just the obvious and blatant Islamophobic rhetoric of far-right politicians like Austrian FPÖ President Norbert Hofer, who told a party congress "Corona is not dangerous. The Koran is much more dangerous", which exacerbates the public discourse on Islam and Muslims. They are also – theoretically speaking – the mainstream politicians who have fully embraced an anti-Muslim agenda, albeit in a much more subtle way. Following a police raid on November 9, 2020 which targeted Muslim civil society and not alleged 'terrorists', Chancellor Sebastian Kurz said: 'We have to fight two adversaries: first, the corona pandemic and second, fight even harder against terrorism and radicalization in Austria and Europe. Similarly, other ruling parties that do not belong to the far-right political camp support an anti-Muslim discourse. A lawmaker from the ruling Nea Dimocratia (New Democracy) party in Greece has called the niqab a "violation of women's rights", raising the question of its regulation by the state. Following a discussion on migration in Brussels with European Commission President Ursula von der Leyen, Hungarian Prime Minister Viktor Orbán said publicly: "We do not believe that a mixture of Muslim and Christian society can be peaceful and provide security and a good life. for people." Finnish Interior Minister (Greens) Maria Ohisalo stressed: "Freedom of speech also comes with responsibility. Talk about immigration turns into hate speech when it is is addressed to individuals or certain groups in a derogatory manner.This is what we see on a large scale with many politicians in power.
Following Brexit, the European Parliament currently has 705 members. While the far-right political group Identity and Democracy (formerly Europe of Nations and Freedom) did not become the fifth strongest party group in the 2019 European Parliament elections, after Brexit, it is become the fourth strongest party, passing the Greens. With 76 seats, Identity and Democracy represents the most successful political group whose members share an anti-Muslim agenda.
Note: The report can be read online for free here.