Constitutional law expert examines Trump executive orders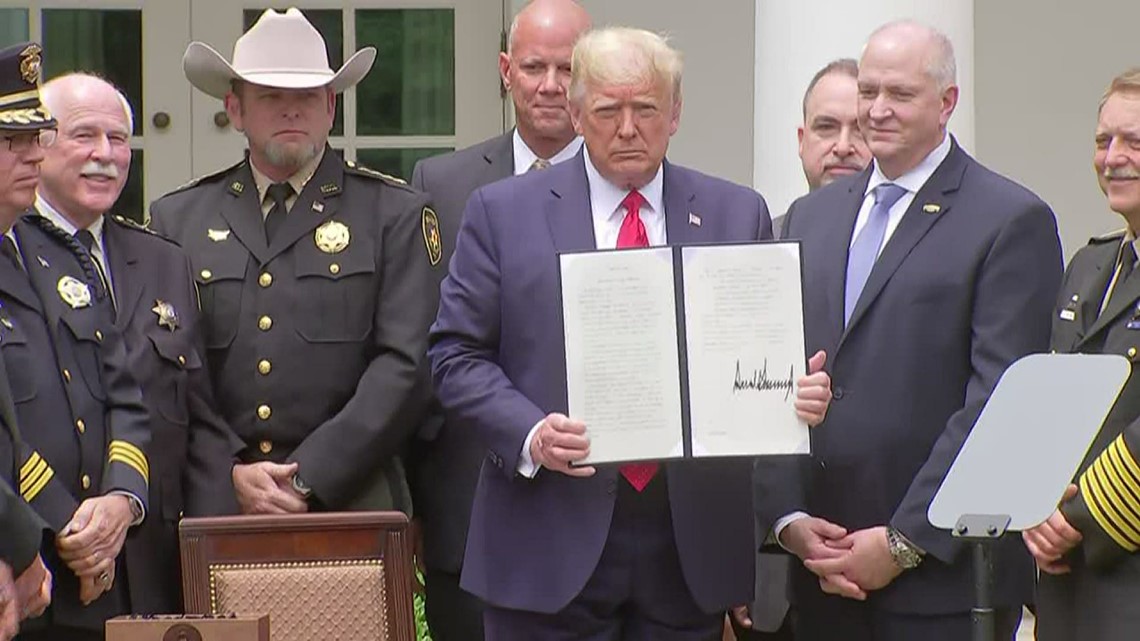 Over the weekend, Donald Trump signed executive orders to expand pandemic relief efforts. But are they constitutional? The #TheQandA team is getting answers.
WASHINGTON – Over the weekend, President Donald Trump signed several executive orders aimed at expanding pandemic relief efforts after Congress failed to come to an agreement. But now people are wondering what kind of relief are the decrees giving, what impact it will have on states and are they even constitutional. WUSA9's #TheQandA team got answers.
Q: What do decree laws cover?
A: On Saturday, President Trump signed four executive orders covering unemployment benefits, payroll taxes, student loans, and eviction protections.
By the end of July, the additional $ 600 unemployment benefit paid by the federal government ran out, leaving millions of people with only the state-provided portion of their benefits.
The President's orders extend the weekly unemployment premium, but at a reduced level of $ 400 per week. The ordinance says states will be required to cover 25% of this $ 400 weekly benefit.
The second thing the ordinances provide is a payroll tax holiday until the end of the year for Americans earning less than $ 100,000 a year.
This means that the part of your salary that is taken for Social Security will not be taken, which means your paycheck will be a little larger and funding for these programs will be reduced.
If re-elected in November, Trump has said he will seek to extend the payroll tax deferral. He also mentioned the total elimination of the tax.
RELATED: Trump Signs Orders for Unemployment Money and Payroll Tax Deferral
The third thing the ordinances do is postpone student loan payments until 2020.
And finally, the orders extend federal protections against evictions.
————————————————– ————————————————– –
The eviction orders prompted many questions from our viewers. WUSA9 therefore spoke with constitutional law expert and University of Baltimore law professor Kim Wehle.
Q: Will the orders prevent people from being evicted from their homes?
Kim: "No, it doesn't give that weight behind a tenant who doesn't want to go see their landlord and say, 'Look, you can't kick me out.' Nothing in this order keeps people home one more day. Only Congress at this point can do it. "
Q: Since President Trump signed the executive order with his version of the Coronavirus Relief Bill, what if the Senate actually passes a bipartisan relief bill? Will this override Trump's orders?
Kim: "Yeah, that would deny it because the Constitution gives the legislature… the congress very, very clearly the power to legislate. There is nothing in the constitution that mentions executive decrees. Washington, Presidents just used them, and they're using them to make laws, but that hasn't actually been squarely challenged in the United States Supreme Court. is passed by Congress, the legislation would replace the order. "
RELATED: President Trump Resumes Press Conference After Shooting Near the White House
Q: Does this make executive decrees unconstitutional?
Kim: "Maybe, and I say maybe because there are a lot of gray areas in the Constitution. We have things that are really express, but a lot of other things are not clear. So we really wouldn't know if a particular executive order is unconstitutional until the United States Supreme Court, of some sort, identifies how that gray area should come out. I think it is possible that there is an argument based on the text of the Constitution itself that [the] the president shouldn't make laws with decrees, but that was never really resolved. "
Q: Do presidential decrees replace the HEROES law? What does the college do in terms of securing funding for voters?
Kim: "The president cannot find new funds like the HEROES law does. get a bucket of money and then decide who gets what in that bucket based on which Congress [allows]. But the president is not allowed to pool new funding from the federal treasury in a way that does not go to Congress first. The presidential decree basically tells the federal government to go look at the existing laws and see what we can do about the evictions. It's not much different from where we were last week, where people in government can see what the law already says. When it comes to unemployment, there is a federal law that allows the federal government to grant unemployment benefits, but it requires that a percentage come from the states. "
RELATED: GOP Unveils 'HEALS' Law With Another Round of $ 1,200 Stimulus Checks
————————————————– ————————————————–
While Trump has said that if re-elected he will end the payroll tax that funds Social Security and Medicare, Wehle explained that he does not have the power to do so. Only Congress can eliminate these programs.
Q: What do states think about the need to pay 25% of the reduced unemployment benefit?
A: The president is asking states to use federal emergency funds to pay this 25%, and according to Maryland Senator Chris Van Hollen (D), many states have already allocated most, if not all, of this funds. WUSA9 has spoken to Van Hollen and he believes the president is pitting one group of Americans against another when it comes to allocating relief funds.
"They are asking the governors to steal Constituent Peter to help Constituent Paul," Van Hollen said. "What do I mean by that? Emergency funds are given to states to help them purchase personal protective equipment with testing to try and reopen the school safely or economically. safer way, to provide emergency aid to voters who might lose their homes. They are there for a purpose and so what President Trump is saying is if you have any money left – what 'they can't – we want you to take it away from these important needs of your constituents to help people with one another What we're saying – what Democrats are saying in the Senate – is we can help both groups of Americans. We can help people who need P3 or testing, and we can continue to provide an additional $ 600 to people who are out of work. "
Download the all new WUSA9 app here.
Sign up for the Get Up DC newsletter: Your forecast. Your commute to work. Your news.